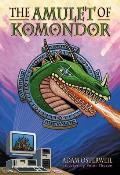 V says:
"The Amulet of Komondor" is a really good book. It's a fictional story about a computer game that's based off a card game, but when you turn on the computer game, you get sucked into it so you're actually the person in there. So you can feel yourself and you're not just seeing the game on the screen. You're surrounded: surround sound, surround sight. I think I liked it because it's an adventure that drew me in. You can't judge the story by it's name and cover because the title doesn't sound that great. I picked up the book because we were in a hurry to leave the library and I was just grabbing books off the shelves. I randomly grabbed this one up, and I'm glad I did.
This book is good for boys and girls who are interested in adventures. The dragon on the cover makes you think it might be a dragon story, but the dragon is just a small part of the story. The story includes fighting (mostly just odd magical spells), magical creatures and monsters who call each other names that might not be appropriate for younger kids. (I'm 8.) There are some big words, but not a lot.
E says:
I really liked this story because it was captivating and unique and very imaginative. There are boyfriends and girlfriends in the story, but that's not critical to the story. It had some good plot twists and it would be difficult to compare with any other book because it's so much different from anything I've ever read. It's fiction, but it could go with science fiction. Both boys and girls would enjoy this book because it follows both a boy and a girl. The writing is for a lower reading level, but the story makes up for it.